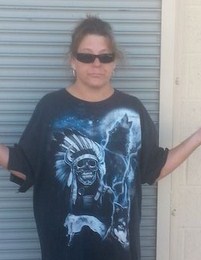 Name: Dawn Liebig.
Died: July 19, 2018.
Age at death: 46.
Cause of death: Stabbed, bludgeoned.
Location: Pahrump, Nevada, USA.
Disability: Multiple disabilities, including cancer.
Details:
As she slept in her bed, Dawn was stabbed and bludgeoned to death by her sons. Not knowing it was her sons who were attacking her, Dawn called out to them for help as she died.
They buried her body, but were arrested for murder when someone called the police and asked for a welfare check. Her sons initially claimed she had asked them to help her commit suicide, but they kept changing their story and were charged with murder.
Dawn had twenty cats which she cared for. They were healthy and well-fed in a photo taken while she was alive, but were left alone with her killers before her body was found. When the police came for the welfare check, they found that all the cats had survived, though some of them were malnourished.
Case status:
Michael Wilson (Son), sentenced to 10 years to life for murder and 8-20 years for use of a deadly weapon.
Dakota Saldivar (Son), convicted of second-degree murder and use of a deadly weapon, sentenced to 18 years to life.
Source:
Man sentenced for killing his mother
Scary Details About Why Two Teens Murdered Their Disabled Mother With A Hammer
Sheriff: Teens admit to killing mom because 'they couldn't take her complaining'
Police: Mom Cries Out to Sons for Help Not Knowing They Were the Ones Smashing Her Skull
Nevada Teens Fatally Bludgeoned Mom To Stop Her 'Complaining,' Police Say
Tired of her 'parenting style,' teens kill mom in brutal 30-minute attack, Nevada cops say
Pahrump teens arrested on suspicion of fatally beating mother
Dawn Liebig Nevada mom murdered by Michael Wilson and Dakota Saldivar cause she complained too much.
Michael Wilson & Dakota Saldivar: 5 Fast Facts You Need to Know