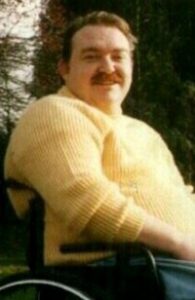 Name: Dominic McCarthy.
Died: February 9, 1997.
Age at death: 34.
Cause of death: Murder.
Location: Stonely, Cambridgeshire, England, UK.
Disability: Paraplegic, from motorcycle accident.
Details:
Dominic was given a massive overdose of insulin by his wife; then when he was hospitalized in a coma, she tampered with his IV. He died without ever waking.
Perpetrator: Deborah Winzar (Wife), convicted of murder, sentenced to 15 years to life; released by 2017.
Source:
Life for nurse who killed disabled husband
Is this nurse a killer?
"No one else killed your husband, so you must have done" (2000)
REPORT: A marriage made in hell
Killer nurse will serve 15 years
Nurse convicted of murdering husband battles to clear her name
New evidence casts doubt on murder conviction of nurse locked up for killing husband
Nurse jailed for injecting husband with insulin could have murder conviction quashed, court hears