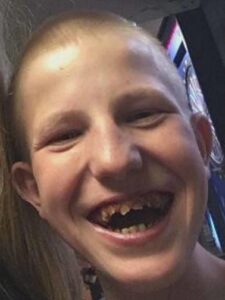 Name: Dustin Baggett.
Died: January 18, 2020.
Age at death: 15.
Cause of death: Murder.
Location: Florissant, Missouri, USA.
Disability: Autism.
Details:
Dustin was pulled out of his burning house by firefighters, but died a day later in the hospital. The fire was investigated and shown to be arson, set by a man who lived in his house.
Dustin's neighbors had long been worried about how he and the other children in his house were being treated. They called authorities repeatedly. Dustin, though nonverbal, was a friendly boy and constantly smiling. A neighbor remembers, "We all kind of took him in, knowing he needed our love."
Perpetrator: Bobby Copass (Household member), charged with first-degree arson and murder.
Source:
Man suspected of setting fatal fire in Florissant now charged with murder
15-year-old Missouri boy who lived with autism died after arson fire; upgraded charges expected
Police: Boy, 15, with autism killed in arson fire