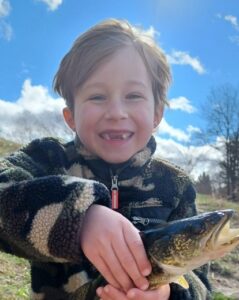 Name: Eli Hart.
Died: May 20, 2022.
Age at death: 6.
Cause of death: Gunshot.
Location: Mound, Minnesota, USA.
Disability: Townes-Brock syndrome.
Details:
Eli was found dead in the trunk of his mother's car after she shot him dead with a shotgun.
Eli liked to play with matchbox cars and wanted to be a firefighter when he grew up. He had recently learned how to fish, and had such a talent for it that he caught more fish on his first day than his father, who owns a bait shop and had been fishing all his life.
Case Status:
Julissa Thaler (Mother), convicted of first- and second-degree murder, sentenced to life without parole.
Sources:
Julissa Thaler sentenced to life in prison for murdering 6-year-old son, Eli Hart
Father of slain 6-year-old takes stand in mom's trial: 'He was everything to me'
Mental health records sought by lawyer representing woman accused of killing 6-year-old son
Woman charged with shooting 6-year-old son whose body was found in trunk during traffic stop
Father was trying to reclaim custody of boy found slain in trunk in Mound
Family of boy killed in Mound says state didn't do enough to protect him 'They ignored us'
Funeral and Headstone, organized by Nikita K
Family remember the boy found dead in Mound, 'Eli was the sweetest kid'
2 Arrested After Boy's Body Found In Trunk; Victim Identified As Eli Hart
Mother, 28, is arrested after son, 6, is found in car trunk