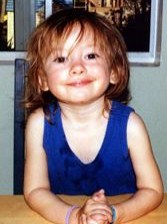 Name: Eliza Jane Scovill.
Died: May 16, 2005.
Age at death: 3.
Cause of death: Pneumonia, AIDS.
Location: Van Nuys, Los Angeles, California, USA.
Disability: HIV+.
Details:
Eliza loved music, singing, and dancing.
She was born to a mother who was HIV-positive and who didn't believe that HIV causes AIDS. As a result, her mother breastfed her even though this increases the risk of passing on HIV to a baby. Eliza Jane wasn't tested for HIV, nor was she given antiretroviral drugs, even though these could have saved her life.
She died at the age of three from pneumocystis pneumonia, an opportunistic infection associated with AIDS.
Case status:
Christine Maggiore (Mother), no charges. Died in 2008 from AIDS-related pneumonia.
Source:
Eliza Jane Scovill – Wikipedia
A Mother's Denial, a Daughter's Death
Christine Maggiore and Eliza Jane Scovill: Living and dying with HIV/AIDS denialism
Eliza Jane Scovill (2001-2005) – Find A Grave…
Did HIV-Positive Mom's Beliefs Put Her Children at Risk?
Christine Maggiore, vocal skeptic of AIDS research, dies at 52