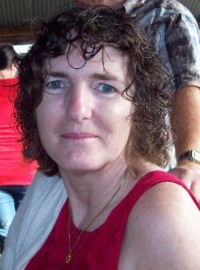 Name: Elizabeth Joy Knowles.
Died: April 22, 2010.
Age at death: 48.
Cause of death: Murder.
Location: Kallangur, Queensland, Australia.
Disability: Chronic illness, mobility impairment (Wheelchair user).
Details:
Elizabeth's husband set their house on fire and left her inside, knowing she could not get out; she died of smoke inhalation. Less than a day later, her husband put in an insurance claim on the house.
Perpetrator: David Maxwell Knowles (Husband), charged with murder, arson, and fraud.
Source:
Man charged with murdering disabled wife in fire to claim insurance
ELIZABETH JOY KNOWLES (#54-2010)
Motive sought for 'suspicious' fatal house fire
Husband charged six years later
A HREF="https://www.news.com.au/national/queensland/crime/man-charged-with-murdering-disabled-wife-in-fire-to-claim-insurance/news-story/e69ba5c9a24cf65ec2b337a760d36bea">Man charged with murdering disabled wife in fire to claim insurance