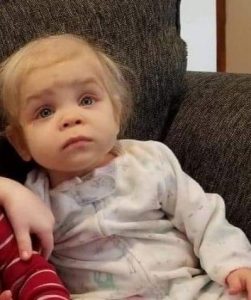 Name: Emma Rose Bingaman.
Died: July 30, 2018.
Age at death: 2.
Cause of death: Abuse.
Location: Mt. Morris, Michigan, USA.
Disability: Developmental delay, seizures; prematurity.
Details:
Emma was abused by her parents for most of her life. She died from a beating aged 2.
Perpetrator: George Bingaman (Father) and Destiny Bingaman (Mother), both charged with felony murder, first-degree child abuse, torture and two counts of child abuse in the presence of another child.
Source:
Toddler's alleged abuse 'one of the worst cases' doctor ever saw
Officials investigating if others knew of alleged abuse that killed 2-year-old
Parents of Mt. Morris Township 3-year-old officially charged with murder
Flint-area parents charged in death of 2-year-old daughter
Charges announced against parents in 3-year-old girl's death
Emma Rose Bingaman
Parents heading to trial in death of 3-year-old
Parents bound over in beating death of 2-year-old daughter