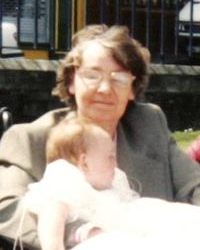 Name: Evelyn Joel.
Died: January 7, 2006.
Age at death: 59.
Cause of death: Pneumonia.
Location: Enniscorthy, Ireland.
Disability: Multiple sclerosis.
Details:
Evelyn's health rapidly declined while she was in the care of her family. By the time she was hospitalized with multiple infected bedsores, she was too weak to recover when she caught pneumonia.
Case status:
Eleanor Joel (Daughter) and Jonathan Costen (Daughter's husband), convicted of manslaughter; given two-year suspended sentence; sentence overturned because the health care workers involved in Evelyn's care had not been summoned to testify at trial.
Source:
Court quashes couple's convictions for killing Evelyn Joel
Couple will not face retrial over death of MS sufferer
Court quashes couple's convictions for killing Evelyn Joel
Couple who left MS sufferer, Evelyn Joel, to die in her own filth receive suspended sentence
Ma neglect killer walk free from court
Appeal by couple convicted of letting MS sufferer die with 'maggots in her infected bedsores'