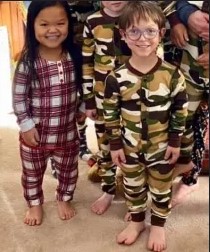 Name: Felicity Kreb.
Age at death: 13.
Name: Barrett Kreb.
Age at death: 9.
Died: October 30, 2021.
Cause of death: Unspecified homicide.
Location: Gleneagle, Colorado, USA.
Disability: Dwarfism.
Details:
Felicity, Barrett, and their mother Yvette Siegert-Kreb, were killed by their father, who then killed himself.
Felicity and Barrett were both international adoptees, Felicity from China and Barrett from Albania. They were two of nine children. Their mother had specifically begun adopting children with dwarfism because her own son had dwarfism, and she wanted him to grow up with other little people around him. With their parents dead, Felicity and Barrett's surviving siblings, the oldest of whom are adults, are now caring for one another.
Case Status:
Christof Kreb (Adoptive father), deceased.
Sources:
Father killed wife, two children in murder-suicide, El Paso County Sheriff's Office says
Grim New Details Emerge as Authorities Identify Victims and Suspect in Colorado Triple Murder-Suicide
Gun store owner 'killed his wife and two children, 13 and 9, in apparent murder-suicide'