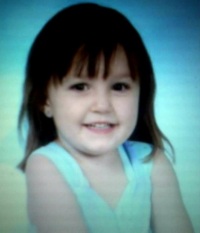 Name: Gracie Buss.
Died: June 3, 2015.
Age at death: 4.
Cause of death: Head injury.
Location: Waterloo, Iowa, USA.
Disability: Epilepsy.
Details:
When her boyfriend beat little Gracie Buss to death, Gracie's mother told the police that Gracie's seizures had made her fall down the stairs.
Case status:
Chad Little (Mother's boyfriend), convicted of first-degree murder, sentenced to life.
Kristi Buss (Mother), pleaded guilty to neglecting a dependent person, child neglect resulting in serious injury and involuntary manslaughter, sentenced to 25 years.
Source:
Iowa crime: Waterloo woman pleads guilty in 4-year-old daughter's death
No bond reduction for mom held in child death case
Waterloo man charged with death of 4-year-old girl
What happened to Gracie Buss?
Gracie Buss's family searching for answers one month later
Defense begins in child death trial