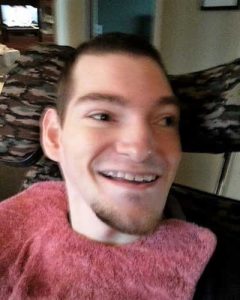 Name: Grant Heckman.
Died: June 19, 2017.
Age at death: 28.
Cause of death: Murder-suicide.
Location: Westphalia, Michigan, USA.
Disability: Cerebral palsy.
Details:
Grant was shot by his father in a murder-suicide.
Grant was named prom king at his special education graduation ceremony. He liked going on walks with his grandfather, and his favorite song was Somewhere Over the Rainbow.
Perpetrator: George Heckman (Father).
Source:
'Saw his son suffer too much, too long,' friend says of principal in murder-suicide
Principal suspected of killing son, himself in murder-suicide
Police: Pewamo-Westphalia principal killed son, self
Death of elementary principal, son shock small Michigan town
"Losing touch with Reality": The science behind murder-suicides
Principal suspected in murder-suicide acted 'out of love,' friend says
Principal kills himself and disabled son
Murder-suicide of principal, son "leaves a big hole in everyone's heart"
Why? George Heckman Pewamo-Westphalia principal shoots disabled son dead then self – Scallywag and Vagabond
Police: Michigan elementary school principal killed severely handicapped son, self
Now what? A familiar fear when disabled children turn 26.