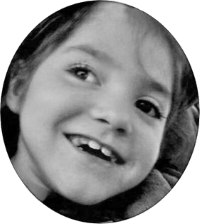 Name: Jacee Lynn Sanner.
Died: August 10, 2014.
Age at death: 10.
Cause of death: Neglect.
Location: Wilson, Oklahoma, USA.
Disability: Brain injury from fever in infancy.
Details:
Jacee died of severe neglect; she weighed only 23 pounds when she died, less than half of what she had weighed only two months earlier.
Jacee liked listening to her sister sing.
Perpetrator: Ashley N. Milligan (Mother), charged with child neglect.
Source: Four children dead or nearly died from abuse had prior DHS contact
Jacee Lynn Sanner