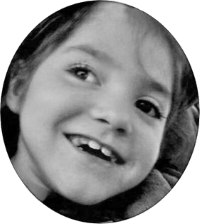 Name: Jacee Lynn Sanner.
Died: August 10, 2014.
Age at death: 10.
Cause of death: Neglect.
Location: Wilson, Oklahoma, USA.
Disability: Brain injury from fever in infancy.
Details:
Jacee died of severe neglect; she weighed only 23 pounds when she died, less than half of what she had weighed only two months earlier, and she had not been given her seizure medication.
Jacee liked listening to her sister sing.
Case status:
Ashley Naoma Milligan (Mother), convicted of child neglect, sentenced to 1 year 6 months prison and 8 years 6 months probation.
Source:
Jacee Sanner – Sunday, August 10th, 2014
Review of the Death of Jacee L. Sanner
Four children dead or nearly died from abuse had prior DHS contact
Jacee Lynn Sanner
Ok Offender Search