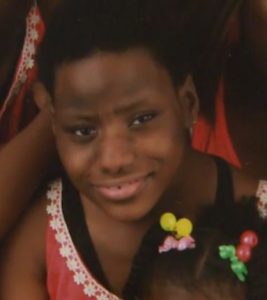 Name: Jada Wright.
Died: February 15, 2018.
Age at death: 14.
Cause of death: Abuse.
Location: Milwaukee, Wisconsin, USA.
Disability: Cerebral palsy.
Details:
After Jada's parents died, she stayed with an aunt until her aunt's medical problems kept her from caring for Jada. After that, she moved in with her legal guardian, and her legal guardian's son became her caregiver.
Jada was beaten to death by her caregiver. She died days after her 14th birthday.
Perpetrator: Christopher Ward (Caregiver; son of her legal guardian), pleaded guilty to child neglect resulting in death, sentenced to 9 years in prison.
Source:
'She could light up a room:' Girl, 14, found beaten to death on Milwaukee's north side
'Why?' Aunt of girl with cerebral palsy, beaten to death days after her birthday, is heartbroken
Caretaker charged in death of disabled girl in Milwaukee | Reading Eagle – AP
Caretaker charged in blunt force trauma death of 14-year-old Milwaukee girl with cerebral palsy
Christopher Ward charged in death of 14-year-old girl; 'admitted to becoming frustrated,' striking her
Man charged in beating death of 14-year-old girl
Man charged in death of Milwaukee girl with cerebral palsy gets 9 years in prison