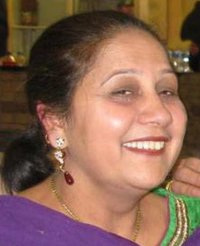 Name: Jagtar Gill.
Died: January 29, 2014.
Age at death: 43.
Cause of death: Traumatic injury.
Location: Barrhaven, Ottawa, Ontario, Canada.
Disability: Crohn's disease.
Details:
Jagtar was an immigrant from India to Canada, and she had met her husband as part of an arranged marriage.
But Jagtar's husband had fallen in love with another woman; so the two conspired to get rid of Jagtar.
They saw their chance when Jagtar had just returned from hernia surgery and was weak and drugged from painkillers; this made her very vulnerable. So while her husband went to run errands with their daughter to establish an alibi, his girlfriend beat and stabbed Jagtar to death.
Case status:
Bhupinderpal Gill (Husband), convicted of first-degree murder.
Gulpreet Ronald (Husband's girlfriend), convicted of first-degree murder.
Source:
Former lovers found guilty for 2nd time in Jagtar Gill killing
Barrhaven homicide victim was vulnerable, drugged and recovering from surgery
Gill trial: Accused wife-killer hid weapon for fear he'd be blamed, lawyer says
Barrhaven homicide victim was vulnerable, drugged and recovering from surgery
Accused in Jagtar Gill murder trial told police she cut hand opening bag of potatoes
No evidence co-accused in Jagtar Gill homicide ever discussed murder plan, court hears
Accused in Jagtar Gill murder trial came to house after body found, court hears
Accused in Jagtar Gill murder trial asked friend to keep crime scene detail from police