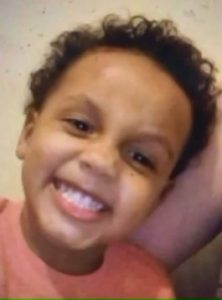 Name: Ja'hir Gibbons.
Died: March 18, 2019.
Age at death: 2.
Cause of death: Abuse.
Location: Chicago, Illinois, USA.
Disability: Unspecified; received speech and developmental therapy.
Details:
Ja'hir was beaten to death by his mother's boyfriend, whom his mother had left to babysit him despite knowing he was abusing the boy. His body showed signs of chronic child abuse.
Perpetrator: Dejon Waters (Mother's boyfriend), charged with first-degree murder; Brittany Hyc (Mother), charged with child endangerment resulting in death.
Source:
Boy, 5, found covered in bruises in same apartment 2-year-old died from child abuse
Boy, 5, found 'covered in bruises' in home where 2-year-old boy was discovered dead from child abuse
Another 2-year-old's death connected to DCFS, Gov. Pritzker weighs in
2 in custody in connection to death of 2-year-old boy on South Side
After toddler killed, DCFS investigating worker that said boy was 'safe' at home