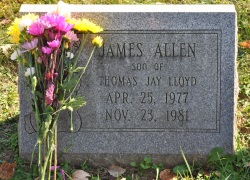 Name: James Allen Lloyd.
Died: November 23, 1981.
Age at death: 4.
Cause of death: Murder.
Location: Shadow Creek, Kentucky, USA.
Disability: Intellectual disability.
Details:
After hearing that James might not be able to go to kindergarten because he was "slow", James's mother put him in the bathtub and shot him dead.
Perpetrator: Caroline Lloyd (Mother), convicted of murder.