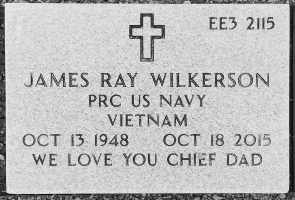 Name: James Ray Wilkerson.
Died: October 18, 2015.
Age at death: 67.
Cause of death: Stabbed.
Location: The Dalles, Oregon, USA.
Disability: Dementia; paraplegic.
Details:
James's wife went to the veterans' home where he lived, and stabbed him to death.
James served more than 20 years in the US Navy and was a Vietnam veteran.
Case status:
Esther Wilkerson (Wife), charged with murder, domestic violence, and unlawful use of a weapon; pleaded guilty to manslaughter, sentenced to 10 years.
Source:
Murder at veterans' home
Find a Grave: James Ray Wilkerson
Fatal stabbing in TD leads to arrest
Woman who killed disabled husband at veterans' home gets 10 years in prison