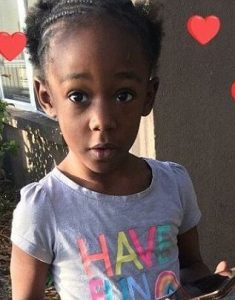 Name: Je'Hyrah Daniels.
Died: June 22, 2018.
Age at death: 4.
Cause of death: Murder.
Location: Tampa, Florida, USA.
Disability: Autism.
Details:
Je'Hyrah's neighbors remember that her mother was often negligent. Je'Hyrah was allowed to walk barefoot near broken glass; she was often left alone at home, and strangers came and went from their apartment. A Child and Family Services case had been opened, but closed for lack of evidence of mistreatment.
Two days after the DCFS decided Je'Hyrah was safe, Je'Hyrah's mother stole a car from a dealership and used it to drive them to the Hillsborough River. She picked up the little girl and walked into the water as Je'Hyrah struggled and screamed for help. When she reached deep water, she tossed Je'Hyrah into the river and walked away.
Je'Hyrah was found by divers less than a half-hour after bystanders called the police, but she had already drowned.
Perpetrator: Shakayla Denson (Mother), charged with first-degree murder, aggravated child abuse, and grand theft auto.
Source:
Mother Murders Autistic Daughter By Drowning Her in a River
Neighbor: Mother 'didn't care' about daughter tossed into Hillsborough River
Witnesses: Girl struggled, screamed as mother dragged her into Hillsborough River
Child protective investigation found no concerns about 4-year-old days before her death in Hillsborough River
Report: Mother upset daughter had disability
Shakayla Denson: 5 Fast Facts You Need to Know
Girl dead after mother seen throwing her into Hillsborough River, Tampa police chief says
Mom charged with murder after tossing child in river
Shakayla Denson throws Je'Hyrah Daniels four year old autistic daughter to her Tampa river drowning death
True Crime: Mom arrested after throwing 4-year-old autistic daughter into a river
Twisted mum 'hurled her four-year-old daughter from bridge into river'
Girl dies after 'mum throws 4-year-old daughter into river' in Florida
Girl, 4, who was 'drowned in a river by mother' was nonverbal autistic
Report: Girl dragged to death in river non-verbal, 'fixated on water'
Mother Sought Help for Autism Before Murder of Her Daughter
Mom who 'drowned 4yo daughter' had just been cleared of child abuse
Tampa Police Investigate Drowning Death of Girl in River
Wednesday's letters: Girl's drowning death is one of two tragedies
Police Release Timeline in the Drowning of the 4-Year-Old Autistic Girl
mother stated that victim was 'pure' and was with her grandmother,"
Mom sang 'It's Raining, It's Pouring' as she threw autistic daughter into river, killing her: Court
Mom pleads not guilty in river drowning death
Mother who 'drowned screaming daughter, 4, in river' unfit for murder trial