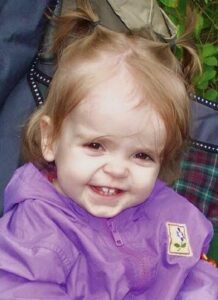 Name: Jocelynn Allison.
Died: September 24, 2008.
Age at death: 15 months.
Cause of death: Head injury.
Location: Wasilla, Alaska, USA.
Disability: Ehlers-Danlos syndrome, hydrocephalus.
Details:
Because Jocelynn didn't want to eat and threw food, her father allegedly slapped her, sending her head backward to collide with her high chair. She died of a head injury. At autopsy, she had injuries consistent with long-term abuse and shaken baby syndrome.
Her family remembers, "Any music would cause her to start singing, clapping and dancing, and would send everyone around her into fits of laughter and joy."
Case status:
Clayton Allison (Father), convicted of second-degree murder; conviction overturned because the trial had not considered Jocelynn's Ehlers-Danlos syndrome; second trial pending, out on bail.
Source:
Jocelynn Renee Allison (2007-2008) – Find A Grave…
Murder conviction overturned for Wasilla man charged with killing 15-month-old daughter
Wasilla man convicted of daughter's murder denies abuse