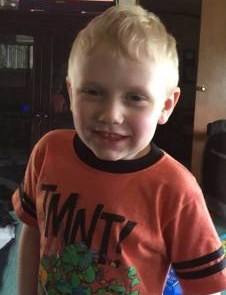 Name: Joe Clyde Daniels.
Died: Missing April 4, 2018.
Age at death: 5.
Cause of death: Homicide.
Location: Nashville, Tennessee, USA.
Disability: Autism.
Details:
When Joe had an accident, his father beat him to death and dumped his body. Then he reported Joe missing, saying he must have wandered away. The community searched for the little boy for three days before his father, according to authorities, finally confessed to beating him to death, putting his body in the trunk of his car, and disposing of it in a remote location. Joe's body has not yet been found. His mother is charged with ignoring the abuse and going to bed instead of trying to assist her son.
Joe loved to eat, especially apples. When he went to church, he always knew which ladies kept candy in their purses. He hummed along to the hymns, but covered his ears when the choir sang high notes.
Case status:
Joseph Ray Daniels (Father), convicted of first-degree murder in the perpetration of a felony, second-degree murder, aggravated child abuse, initiating a false report and tampering with evidence; sentenced to 51 years to life.
Krystal Daniels (Mother), pleaded no contest to aggravated child abuse/neglect/endangerment, conspiracy to commit aggravated child abuse, making false reports to an officer, and tampering with evidence; sentenced to 12 years 9 months to 15 years.
Source:
Mother of Joe Clyde Daniels accepts plea deal
Where is Baby Joe? 4 years later members of search team weigh in
Lawmaker proposes 'Joe Clyde Daniels Act' after autistic Tennessee boy killed by father
Tennessee man sentenced to 51 years in son's death
Mother Faces New Charges in Presumed Death of 5-Year-Old Son 'Baby Joe'
Tennessee man found guilty in missing son's death
11-Year-Old Boy Testifies Against Stepfather, Says He Heard Loud Bang and Saw 'Baby Joe' on the Floor
BABY JOE: Emotional testimony heard in day 4 of Joseph Daniels murder trial
In-Depth: Critical arguments that could decide the trial of Joseph Daniels
Prosecution shows videos of Joe Clyde Daniels first day of trial
'He was a great kid': Videos of little Joe Clyde Daniels play at father's murder trial
'When I Get Angry, Things Happen': Prosecutors Detail Case Against Father Charged with Murdering His 5-Year-Old Autistic Son
Here's a timeline to help understand the Joe Clyde Daniels case
Phone call: Joseph Daniels implicates wife Krystal in Baby Joe's death
Mother 'went to bed instead of helping autistic son, 5, as boyfriend killed him'
Trial of parents who murdered autistic son, 5, delayed by Covid
Attorney for Baby Joe's father claims mental illness medication prompted murder confession
Missing 5-year-old autistic boy was beaten to death by father, cops find blood, hair on shovel likely used for murder
Father Charged With Murder In Case Of Missing Boy With Autism: TN Investigators
Update: Father arrested on charge of homicide in death of 5-year-old Dickson County boy
TBI: Father confesses to killing 5-year-old son
Autism Memorial: Joe Daniels
TBI: father of missing boy with autism has been charged with criminal homicide
Father Of Missing 5-Year-Old Autistic Boy In Middle Tennessee Charged With His Murder; Body Still Missing
Joe Clyde Daniels: TBI to update search at news conference
Father charged in death of missing Tennessee 5-year-old
Dad 'killed his autistic son, 5, and hid his body before reporting him missing'
Father confesses to killing 5-year-old son who had autism, authorities say
Vigil held for Dickson boy allegedly killed by his father
Four vigils planned Sunday for missing autistic boy presumed murdered by father
TBI: Father confesses to killing 5-year-old boy with autism
Father of missing 5-year-old charged with the murder of his autistic son
Father of missing autistic 5-year-old boy charged with criminal homicide
Missing boy with autism dead, father arrested for killing him
Autistic boy's father accused of killing him in Tennessee, hunt for body ongoing
Dad reported his autistic son missing. He had just killed the boy, Tennessee cops say
Tennessee father killed his 5-year-old autistic son then hid his body, police say
Mother of missing Tennessee child arrested, charged in his death
Mother of murdered Dickson County boy arrested on child neglect charge
Scary New Details About The Missing 5-Year-Old Autistic Boy Whose Father Was Just Arrested For His Murder
Dad beat autistic son Joe Clyde Daniels to death, hid his body in remote area: affidavit
Search for missing autistic boy takes grim turn as father is arrested
Joseph Ray Daniels beat Joe Clyde to death, disposed of body in 'remote area,' authorities say
Joe Clyde Daniels 911 Call Released: Search For Body Of Five-Year-Old Autistic Boy Continues
Joe Clyde Daniels Update: 'Dad' who beat autistic son to death 'with closed fists' is now on suicide watch: Police
Arrest Warrant: Father beat autistic 5-year-old to death, dumped his body
A city searched for an autistic boy for days. Then his dad confessed to killing him
Father accused of killing 5-year-old boy with autism in Tennessee
Father beat son with autism to death, disposed of body in 'remote area,' authorities say
Joe Daniels' death spotlights autism challenges
Tennessee father 'beat his autistic five-year-old son to death'
Elementary school honors autistic boy presumed dead after father allegedly confesses to beating him to death
Authorities: Tenn. father beat autistic son to death, disposed of body in 'remote area'
Court documents reveal father confessed to beating 5-year-old autistic child to death
Father charged in death of missing 5-year-old autistic son
Tennessee Dad Joseph Daniels Who Reported Autistic Son Missing Had Just Killed Him: Cops
The death of 5-year-old Joe Clyde Daniels brings focus to understanding autism
Joe Clyde Daniels mom was in the home when boy's father beat him to death, took 'active steps' to cover up the crime: Court Docs
Joe Clyde Daniels' mother admits she was present when the boy was killed, court documents state
Joe Clyde's mom present while dad beat him to death, tried to cover up murder: affidavit
Joe Clyde's mom, dad had no criminal history before his murder; brothers in DCS custody
Joe Daniels, Tennessee Man Punched Autistic 5-Year-Old Son To Death
Father admits to beating 5-year-old son with autism to death: court documents
Mom was present when dad beat 5-year-old son to death, police say
Mom of autistic boy is arrested after husband was charged with murder
Mother, father both now behind bars in autistic boy's death
Photos show parents of murdered Joe Clyde Daniels leaving Dickson Co. court
Tennessee Father Confessed to Beating to Death his 5-Year-Old Autistic Son Apr 11, 2018
Mother's social media posts scrutinized following death of Joe Clyde
Joe Clyde Daniels, 5, remembered as a 'sweet, gentle spirit'
Dickson neighbors demand answers from murdered 5-year-old boy's parents
Parents arrested for murder of 'Baby Joe' arraigned in Dickson County
Tennessee mother saw husband kill her 5-year-old son who had autism, authorities say
Officers release list of roads in search for murdered 5-year-old Dickson boy
Joe Clyde Daniels: Police review surveillance footage in hopes of locating autistic boy reportedly beaten to death and hidden
Joe Clyde Daniels: Dad who reportedly killed autistic son gave police several locations to find boy's body but nothing 'panned out'
Massive search planned for Dickson boy admittedly murdered by father
Tennessee father tells police he murdered his autistic son because boy urinated on floor
Joe Clyde's dad beat him to death for urinating on the floor, source says
Joe Clyde's dad beat him to death for urinating on the floor, source says
Joe Clyde Daniels: Search team sets out to find missing autistic boy whose father admitted to beating boy to death and hiding body
Search for body of little Joe continues as parents head to court
Tennessee man accused of killing autistic son moved to state facility for safety
Father accused of killing son with autism to undergo mental evaluation
Tennessee Sheriff faced with murder of child, deputy remains vigilant
Joe Clyde Daniels' father fit for trial in son's death, attorney says
Joe Clyde: Joseph, Krystal Daniels trial date pushed back to 2020
Joe Clyde Daniels' dad denied second transfer request by judge
Vigil to be held for missing but presumed murdered autistic Middle Tennessee boy
Potential new evidence located in death of five-year-old autistic boy