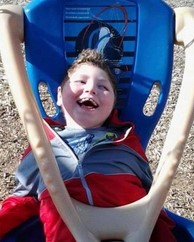 Name: Joseph "JJ" Hammond.
Died: November 3, 2020.
Age at death: 15.
Cause of death: Dehydration, malnutrition.
Location: Moline, Illinois, USA.
Disability: Cerebral palsy.
Details:
JJ was found dead in his home. An autopsy concluded he had died of dehydration and malnutrition, with several untended large wounds on his body.
Case Status:
Jennifer Keim (Mother), charged with first-degree murder.
Justin M Keim (Stepfather), charged with Criminal Abuse or Neglect of a Disabled Person.
Source:
Moline mother charged with her son's murder is out on bond
Moline woman charged with murder in death of disabled 15-year-old son
Moline Mother Arrested On Murder Charges
Woman arrested in connection with murder of 15-year-old disabled son
Additional person charged in relation to Moline first-degree murder case
Two arrested in connection with death of 15-year-old boy with disabilities from Moline
Friends defend Moline woman charged with murder of 15-year-old son