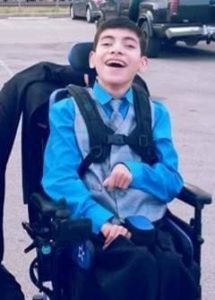 Name: Joshua Alonzo.
Died: May 27, 2018.
Age at death: 21.
Cause of death: Neglect.
Location: San Antonio, Texas, USA.
Disability: Schizencephaly, cerebral palsy.
Details:
At 18, Joshua got too old to go to his pediatrician, but instead of finding a new doctor, his mother denied him medical care for the last three years of his life. He couldn't eat on his own, and she didn't feed him enough.
Joshua died of malnutrition and dehydration. Though he had always been small, weighing 51 pounds at age 18, when he died he weighed only 38.
Perpetrator: Alma Munoz (Mother), charged with causing serious bodily injury to a disabled person.
Source:
Mom collected benefits as disabled son, 21, died weighing 38 pounds, Texas cops say
Texas mom charged when disabled adult son dies after three years without medical care
Obituary for Joshua Alonzo – San Antonio, TX
San Antonio mother arrested after disabled son dies of malnutrition, dehydration