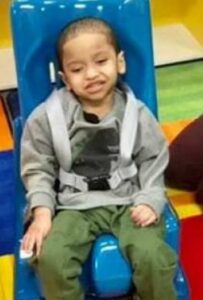 Name: Josias Marquez.
Died: March 31, 2020 (Body found).
Age at death: 5.
Cause of death: Neglect.
Location: Howard, Wisconsin, USA.
Disability: Cerebral palsy, blind, epilepsy.
Details:
Josias's body was found in the trunk of his mother's car after she was arrested for neglecting his siblings, ages 2 and 6. His exact cause of death is unknown, but it is probable that he died from either malnutrition or from a fatal seizure (his mother reportedly admitted to not giving him his seizure medication). His body showed signs of malnutrition.
Case status:
Sagal Hussein (Mother), pleaded no contest to child neglect resulting in death, hiding the corpse of a child, two misdemeanor counts of neglecting a child, and obstruction; sentenced to 15 years in prison and 10 years probation.
Source:
Howard woman sentenced to 15 years prison for neglect death of son
Mother 'embarrassed' by son's disability pleads not guilty after cops find the 5-year-old's mummified body car trunk
Plea deal possible for mother accused in son's death
Howard woman pleads not guilty in son's neglect death
Mom accused in child's death objects to videoconference court hearing
Howard woman charged in death of son found in trunk of car
Green Bay-area woman charged with hiding 5-year-old son's corpse, says she gave him CBD to treat seizures
Brown County woman charged in death of 5-year-old son
Woman charged after 5-year-old son's body found in duffel bag
Wisconsin woman charged in death of son found in trunk of car
Wisconsin woman charged after son's body found in her car
Wisconsin mom charged after 5-year-old son's body found in duffel bag in trunk
Boy Found Dead In Trunk Of Woman's Car Was Her Blind 5-Year-Old Son, Autopsy Confirms
Body of missing 5-year-old boy found in mother's trunk after she told police he was with his father: Cops