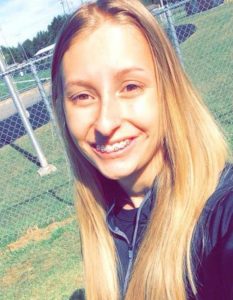 Name: Kayla Dezaray Hensley.
Died: November 11, 2017.
Age at death: 18.
Cause of death: Murder.
Location: Weaverville, North Carolina, USA.
Disability: Cerebral palsy, deaf.
Details:
Kayla was stabbed to death by her brother.
Staff at American Eagle Outfitters, where she worked, remember her as "a ray of sunshine".
Perpetrator: Her brother, charged with first-degree murder; pleaded guilty to second-degree murder, sentenced to 16 to 25 years.
Source:
Teenager, 17, sentenced to at least 16 years in jail for killing disabled sister three years ago
Teen, 17, sentenced to at least 16 years in jail for killing sister
Kayla Dezaray Hensley: Disabled teen's brother who slit her throat and left body by dumpster gets 16 years
Boy, 14, admits slitting throat of sister, 18, & throwing body in dumpster
Kid slashes his disabled 18-year-old sister to death: Investigators
Boy arrested for 'stabbing girl to death before dumping body near skip'
Kayla Hensley Weaverville brother murders hearing impaired sister