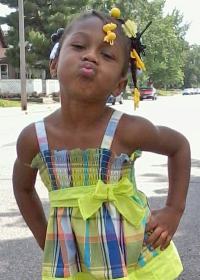 Name: Kendrea Johnson.
Died: December 27, 2014.
Age at death: 6.
Cause of death: Unknown.
Location: Brooklyn Park, Minnesota, USA.
Disability: PTSD.
Details:
Foster child Kendrea was showing signs of severe mental illness; she had been experiencing suicidal ideation every day for months. But her foster home did nothing to help her; instead, she was threatened with beatings and locked in her room. Four times, her foster home was reported for neglect, but not investigated.
Kendrea was found hanging from her bunk bed with a jump rope tied around her neck; the death was ruled a "ligature hanging" and showed all the signs of suicide, including a suicide note reading "I'm sorry". If that is the case, then Kendrea's death was the result of neglect, with her mental illness left untreated to the point that the little girl committed suicide. However, Kendrea's grandmother believes her death was a murder rather than a suicide, since the knot in the jump rope might have been too complex for a six-year-old to tie.
Perpetrator: Tannise Nawaqavou (foster mother); child and family services. $1.5 million settlement paid to Kendrea's grandmother by Hennepin County.
Source:
SiebenCarey and NewmarkStorms File Civil Lawsuit Following Death of Six-Year-Old in Foster Care
String of failures came before suicidal 6-year-old's death
Did 6-year-old Brooklyn Park girl kill herself? Police wonder
Hennepin County officials say little about death of girl in Brooklyn Park foster-care home
Girl, 6, died by hanging in foster care. County settles with family for $1.5 million.
$1.5 million settlement in Minnesota six-year-old's foster care death
Minnesota girl, 6, died by hanging in foster care. Hennepin County settles with family for $1.5 million.