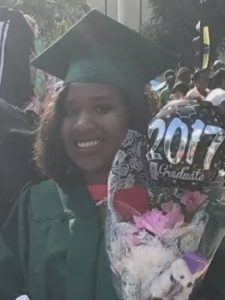 Name: Kiara LaSalle.
Died: September 1, 2017.
Age at death: 17.
Cause of death: Gunshot.
Location: Sacramento, California, USA.
Disability: Developmental disability.
Details:
Kiara and her mother Erica Wallace were both shot by her mother's boyfriend.
Kiara was a recent high school graduate who worked in retail, volunteered at an animal shelter, and planned to attend Sacramento City College. Her dance instructor remembers her as his most dedicated student.
Case status:
Eric Dawan Arnold (Mother's boyfriend), killed by police after shooting two officers.
Source:
Her mother and sister were killed in their house. Now she wants to use it to help other women.
First, a mother and daughter died. Then two officers were shot
Neighbors relieved double murder suspect is dead
Woman Speaks Out After Man Suspected of Killing Her Mom, Sister is Shot, Killed by Police
Vigil held for mother, daughter killed in their South Sacramento home