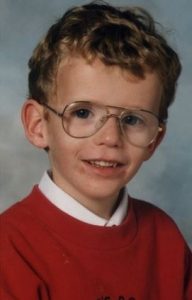 Name: Kirk Hammersley-Baker.
Died: March 22, 1999.
Age at death: 7.
Cause of death: Murder.
Location: Stoke-on-Trent, England, UK.
Disability: Epilepsy.
Details:
Kirk's neglectful father and unstable home life was relieved by his attendance at school, which served as his safe haven. He was a loving boy who had a big smile and liked hugs.
Involved in a custody battle and afraid he had lost custody, Kirk's father drugged him, strangled him with a scarf, wrapped him in a blanket, and dumped his body in an outhouse.
His school opened a new play area in his memory, which was revamped in his honor for the 20th anniversary of his death.
Perpetrator: Karl Hammersley-Baker (Father), convicted of murder, sentenced to life.
Source:
The chilling murder of Stoke-on-Trent boy, 7, strangled to death by his own dad
Murdered Kirk, 7, to be remembered with play area revamp 20 years on
Tragedy of 'little boy lost' who wanted love and affection.
Father in custody row killed son, 7
Life for man who strangled son