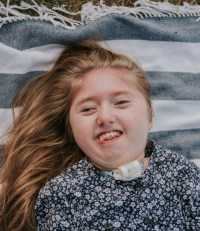 Name: Kylie Larson.
Died: June 21, 2020.
Age at death: 13.
Cause of death: Medical neglect.
Location: Paynesville, Minnesota, USA.
Disability: Perinatal hypoxic brain injury.
Details:
Kylie's mother, alone with her because her stepfather was on a fishing trip and her brother was staying with friends, ignored alarms from her blood oxygen and heart rate monitor, repeatedly turning off the alarms, reducing the sensitivity, and eventually removing it altogether. Kylie died of respiratory failure.
Kylie was a middle-school student whose schoolmates often pushed her around the halls to hear her laugh. She liked going outside, especially to new places. She enjoyed boat rides and spinning around in her wheelchair.
Perpetrator: Elise Nelson (Mother), charged with with second-degree intentional murder and second-degree manslaughter.
Source:
Disabled girl, 13, died 'after mother turned her pulse alarm off for some peace'
Murder charges: Stearns County mom silenced disabled child's medical device alarm
Charges: Paynesville mom deprived care, killing her daughter with disabilities
Kylie Christine Larson
Mother kills disabled daughter, silences her medical device alarm while stepdad is away fishing: Police
Woman charged in death of her disabled daughter
Paynesville mom charged with murder for tampering with child's medical equipment, warrant issued