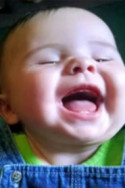 Name: L'Naya White.
Died: June 26, 2015.
Age at death: 6 months.
Cause of death: Fatal abuse.
Location: Rapid City, South Dakota, USA.
Disability: Unspecified.
Details:
L'Naya was raped and beaten by her mother's boyfriend and died of a head injury caused by shaken baby syndrome. However, during trial her killer argued that he had merely left her on the couch, which was dangerous because of her frailty due to her "serious disability", and she had fallen off and hit her head on the floor. Eventually he was allowed to "admit" to being negligent, plead guilty to second-degree manslaughter, and receive a sentence of only 4 years in prison.
Perpetrator: Kristopher Houchin (Mother's boyfriend), initially charged with rape, child abuse, and murder. Pleaded guilty to second-degree manslaughter; sentenced to 10 years consisting of 4 years in prison and a 6-year suspended sentence.
Source:
Rapid City man sentenced after admitting he's responsible for the death of a six month old girl
Candlelight Vigil For L'Naya LovePolice Discover Shocking Reason Behind 6-Month-Old Baby's DeathBaby's Violent Death Hits Deep In Rapid City CommunityRapid City Man Sentenced In Death Of 6-Month-Old GirlMonsters Among Us: Kristopher Houchin charged with the rape and murder of 6-month-old L'Naya Love WhiteRapid City man charged with murder of 6-month-old girlObituary for L'Naya Love White – Rapid City, SD
Kristopher Houchin Charged With The Rape And Murder Of 6-month-old Girl
Rapid City man sentenced to prison for baby's death
Baby's Violent Death Hits Deep In Rapid City Community