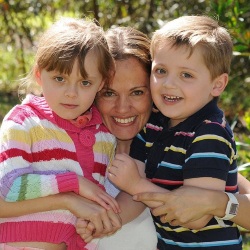 Name: Elisa "Eli" Lutz.
Age at death: 11.
Disability: Deaf; Autistic.
Name: Martin "Tin" Lutz.
Age at death: 10.
Disability: Deaf; Autistic.
Name Maria Claudia Lutz.
Age at death: 43.
Disability: Depression/Anxiety.
Died: October 17, 2016.
Cause of death: Carbon monoxide poisoning.
Location: Davidson, Sydney, Australia.
Details:
When their mother did not show up at school to volunteer in the canteen, the school called police to check up on the family. Elisa and Martin were found dead in their home along with both parents, victims of murder-suicide. Their father had installed pipes in their house to fill it with carbon monoxide, killing the whole family.
Both children liked artwork at school. Martin was particularly talented at painting; Elisa liked dancing and singing. Maria was a dedicated mother who missed her native country, Colombia. The family's bull mastiff, Tequila, died with them.
Case status:
Fernando Manrique (Father), deceased.
Source:
Martin, Elisa, Maria
Sydney dad intended to die with family
Davidson deaths: Police investigate murder-suicide at horror home where family of four were killed
Fernando Manrique installed carbon monoxide piping system in his Davidson home
Father turned house into 'gas chamber' to kill wife, autistic children, pet dog and himself in suspected murder-suicide
Euthanasia book purchase offers clue into Australian family's deaths
St Lucy's School in Wahroonga mourns after murder-suicide of the family in their Davidson home
Brother of Sydney woman gassed to death by husband wants to know why calls for help were ignored
Davidson death house's grisly layout revealed
'It's a horrific thing that has happened to this suburb': a young family's death
The shocking details when family of four were found gassed to death
Mother Maria Lutz killed in murder-suicide honoured with posthumous school award
Art helps school recover from family loss
Davidson family murder-suicide 'rang alarm bells' for family friends
Davidson murder-suicide: Exhibition featuring autistic children's art to honour family
Tragic murder-suicide anniversary marked
'Our families are under pressure': School rallies one year after horror murder-suicide
Chilling new details of killer dad's 'evil plan' emerge
Inquest into Sydney family's murder-suicide reveals mother had 'constant battles'