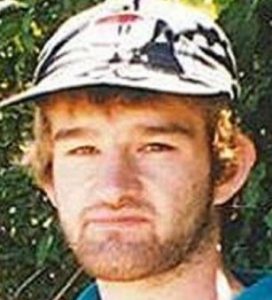 Name: Martin Meffert.
Died: October 24, 2013 (Body found); Missing February 8, 2005.
Age at death: 23.
Cause of death: Murder.
Location: Terownie, South Australia, Australia.
Disability: Unspecified.
Details:
23-year-old Martin, grieving the death of his mother, arranged to stay with an aunt and some cousins. Then he disappeared.
Eight years later, one of his cousins, who had been collecting Martin's disability payments, pulled out Martin's skull and showed it to a friend. This was not reported, until a firearms raid found Martin's bones in plain view in the fireplace of his home. His cousin was charged with murder.
Martin loved Bruce Springsteen's music. He was proud uncle to a baby nephew and awaiting a second nephew when he died.
Perpetrator: Christopher Travis Scott (Cousin), charged with murder.
Source:
Martin Meffert murder: Police conduct doorknocks in Terowie, SA
Bones-in-fireplace murder: Sister of Martin Meffert wants to end her family's torment and get justice
No one had spoken to Martin for years. Then police made a gruesome discovery.
Case against accused cold case murderer labelled 'weak'
Cold case murder accused remanded in custody
Accused killer pulled skull out of box 'like a show-and-tell', court told
Accused Terowie murderer admits to killing relative whose bones were found in fireplace
Killer's confession leads police to find remains of SA murder victim
Bones of murdered man found at Terowie property
Property searched to find murdered man's remains