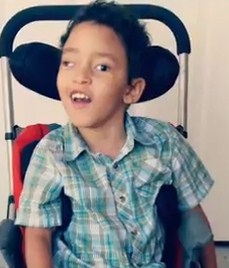 Name: Mason Jordan.
Died: August 20, 2018.
Age at death: 7.
Cause of death: Murder.
Location: Bend, Oregon, USA.
Disability: Cerebral palsy, hydrocephalus.
Details:
Mason's mother shot him to death.
Mason liked reading, watercolor painting, music, and playing with toy cars. He was curious about everything. Despite medical problems that put him in the hospital on a regular basis, friends and neighbors remember him as a very happy child.
Perpetrator: Tashina Aleine Jordan (Mother); charged with aggravated murder.
Source:
Police: Bend mother kills special needs son, 7, before attempting suicide
2016-17
Single mother shoots her severely disabled 7-year-old son to death and attempts to kill herself by overdosing on pills
Correction: Disabled Child Shot story
Mother Accused Of Killing 7-Year-Old Disabled Son Before Attempting Suicide
Mother believed to have killed son expected to recover
Bend mother arraigned on aggravated murder charge in son's shooting
Bend woman arraigned in alleged killing of son, 7
Mother indicted for murder in shooting death of son with severe disability
Bend woman charged with killing disabled son back in court