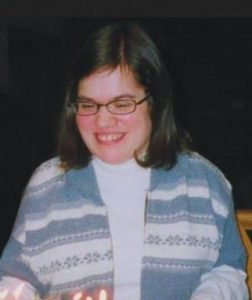 Name: Melissa Couture.
Died: April 26, 2016.
Age at death: 38.
Cause of death: Choking, starvation, pressure sores.
Location: Calgary, Alberta, Canada.
Disability: Cerebral palsy.
Details:
For four years before her death, Melissa's mother did not provide medical care for her, even though she was having trouble swallowing and rapidly losing weight. Melissa died from choking, starvation, dehydration, and severe pressure sores, weighing only fifty pounds.
Case status:
Patricia Couture (Mother), charged with criminal negligence resulting in death, ruled not criminally responsible.
Source:
Calgary woman charged in death of special needs daughter
Police lay charges in death of disabled Calgary woman
Calgary woman charged with death of daughter released on bail
Senior charged in adult daughter's death says she was mistreated by police
Calgary mom charged in disabled daughter's death shocks neighbourhood
Deep bed sores would have been painful leading to disabled woman's death, mother's trial hears
Disabled woman weighed 51 pounds when she died, mother's trial hears
Disabled woman went years without medical treatment: Court
Melissa Couture choked to death on substance consistent with meat, trial told
Melissa Couture went years without medical treatment, Calgary trial told
Trial begins for Calgary senior accused of negligence in death of daughter
Trial begins for Patricia Couture, Calgary mom accused in death of disabled daughter
Trial underway for Calgary mother charged in death of disabled daughter
Young disabled woman would have been in pain and discomfort prior to death, court hears
Trial begins for senior in death of daughter
Father of deceased disabled girl testifies at trial of ex-wife: 'I'm shocked she died'
Father tells Calgary trial he wanted to get help for disabled daughter
Father testifies at trial for mother accused in death of disabled daughter
Mom blamed stench on demons: Trial
Mother accused in death of disabled daughter expected to take stand in own defence Friday
Mother of disabled daughter blamed overpowering smell of excrement on 'demons,' ex testifies
Mother on trial in disabled daughter's death kept 'immaculate' care of her but believed in demons, court hears
Mom charged with negligence in disabled daughter's death sent for psychiatric assessment mid-trial
Calgary mother found not criminally responsible in 2016 death of disabled daughter
Judge rules senior not criminally responsible in death of disabled daughter
Judge finds Calgary mother Patricia Couture not criminally responsible for death of disabled daughter
Calgary mother accused in daughter's death found not criminally responsible