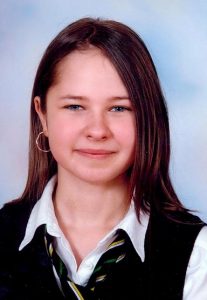 Name: Michelle Stewart.
Died: November 14, 2008.
Age at death: 17.
Cause of death: Murder.
Location: Drongan, East Ayrshire, Scotland.
Disability: Club feet.
Details:
Michelle had a boyfriend, but broke up with him because she wanted to go to university.
Michelle's ex-boyfriend killed her with a knife. She died in her mother's arms.
Perpetrator: John Wilson (Ex-boyfriend), convicted of murder, sentenced to 12 years to life; granted community release after he served 9 years.
Source:
Fury as killer gets out after just 9 years
Father of Ayrshire girl, 17, hacked to death in bloodbath horror furious as killer to get home leave after serving just NINE years
Murder victim's father demands justice system reform
Call for justice reform as Michelle Stewart's killer gets out
Expert claims it's 'extremely unlikely' killer who hacked Ayrshire girl, 17, to death will be allowed to step foot in victim's family neighbourhood