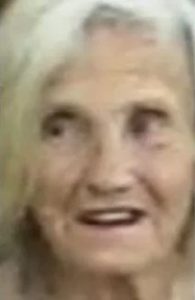 Name: Noama Ware.
Died: October 2014.
Age at death: 78.
Cause of death: Undetermined, in the setting of abuse and neglect.
Location: Shelley, Idaho, USA.
Disability: Frail elder, likely dementia/hoarding.
Details:
Noama's husband and son both abused her. After an argument about her keeping her many cats in her bedroom, her son kicked her, injuring her severely; and then as she lay in bed, her grandson kicked her. They found her dead shortly thereafter.
Afraid that they would get in trouble because Noama was malnourished and abused, they buried her body in their duck pen, and her death went unnoticed for five years until her daughter died in a car accident and the police tried to find her to break the news.
Case status:
Harley Howell (Grandson), pleaded guilty to failure to report a death, sentenced to 3-10 years in prison.
Douglas Howell (Son), pleaded guilty to abuse and neglect of an elder, sentenced to 4 days in jail, $387.50 in fees, and 50 hours community service.
Source:
Local man sentenced to four days in jail for abuse and neglect of 78 year-old woman
Man admits to killing his grandmother and burying her in the backyard nearly 5 years ago
Shelley man sentenced after hiding grandmother's death
Teen 'killed bedridden grandma after row about her keeping 30 cats in her room'
Man admits to killing his grandmother and burying her in the backyard nearly 5 years ago