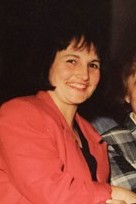 Name: Noeleen Ann Marinovich.
Died: February 7, 2019.
Age at death: 59.
Cause of death: Head injury.
Location: Oratia, North Island, New Zealand.
Disability: Bipolar disorder, mobility impaired.
Details:
Noeleen's son strangled her, then bludgeoned her to death with a hammer.
For her 60th birthday, she wanted to go to Queenstown. She died at age 59.
Case status:
Martin Marinovich (Son), convicted of murder, sentenced to 14 years to life.
Source:
Inside the senseless murder of a reclusive mother by her only son
Man found guilty of murdering mother with hammer
Son who strangled mother and hit her with a hammer 12 times guilty of murder
Noeleen MARINOVICH's Notice
Son who strangled mother and beat her with hammer jailed for murder