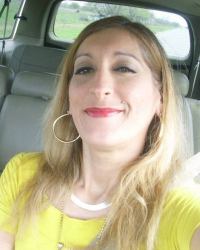 Name: Noemi Villarreal.
Died: June 8, 2016.
Age at death: 45.
Cause of death: Murder.
Location: Corpus Christi, Texas, USA.
Disability: Depression, epilepsy.
Details:
Noemi had epilepsy and could not drive, so her boyfriend drove when she needed to go somewhere. Unfortunately, her boyfriend was abusive, leaving her dependent on her abuser for her transportation. He would engage the child lock on the car, trapping her inside so that he could hit her. On one occasion she broke the car window to get away from him.
After one assault in which he beat and choked her, Noemi tried to escape by reporting her boyfriend to the authorities. Six days after she did so, her boyfriend strangled her, burned her body, and dumped it into a trash can.
Perpetrator: Lance Taylor (Boyfriend), charged with murder.
Source:
Six days after reporting domestic violence, Noemi Villarreal was dead
Sister grieves loss of her 'Wonder Woman'
Corpus Christi man strangled girlfriend, burned body in trash can because she reported abuse, police say