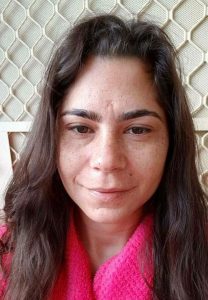 Name: Özlem "Ozzie" Karakoç.
Died: July 14, 2017.
Age at death: 34.
Cause of death: Drowned.
Location: Dandenong, Melbourne, Victoria, Australia.
Disability: Bipolar disorder.
Details:
Ozzie's ex-boyfriend killed her because she had ended the relationship and wanted to marry another man. He drowned her in the bathtub, and then claimed that they had had a suicide pact (there is no evidence that they ever did).
Case status:
Murat Davsanoglu (Ex-boyfriend), convicted of murder, sentenced to 18-23 years.
Source:
Man jailed for drowning girlfriend after she told him she was marrying someone else
Man jailed for drowning girlfriend after she told him she was marrying someone else
'Suicide pact' man facing murder trial for girlfriend's bath drowning
'You left us too soon': Family pays tribute to young mum found dead in Lalor
Melbourne man 'drowned partner in the bath in suicide pact'
Vic man to stand trial over bath murder
Tributes pour in for Melbourne mum allegedly murdered by partner
Mother allegedly dumped in abandoned house in 'suicide pact'