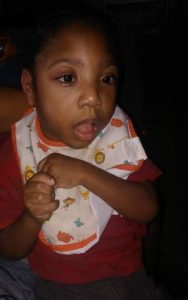 Name: Robbie Ballenger, also called Robert Williams.
Died: April 15, 2019.
Age at death: 8.
Cause of death: Pneumonia, malnutrition.
Location: Fayetteville, North Carolina, USA.
Disability: Cerebral palsy, epilepsy.
Details:
Robbie lived, along with his twin brother and six other children, with his grandmother and five other adults. The children didn't go to school or get medical care.
Robbie's grandmother neglected him. He was not fed enough, and at the age of 8, he died of pneumonia secondary to starvation, weighing only 18 pounds.
Case status:
Geneen Romalia Ballenger (Grandmother), pleaded guilty to child abuse and reckless disregard for human life, sentenced to 10-21 months in prison, suspended, and 18 months probation.
Source:
Fayetteville grandmother pleads guilty in death of disabled 8-year-old grandson
DA: Fayetteville grandma faces 2 years max after child starved to death
Fayetteville boy who starved to death in grandmother's care had cerebral palsy, weighed 18 pounds :
Fayetteville grandmother faces 2 years max for starving disabled child to death
Disabled boy, 8, 'was so badly starved by granny his corpse looked like a baby'