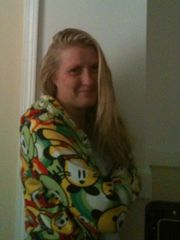 Name: Shirley Beck.
Died: June 26, 2014.
Age at death: 39.
Cause of death: Blunt trauma.
Location: Clarksville, Tennessee, USA.
Disability: Unspecified mental disability (received disability payments); abuse survivor.
Details:
Shirley lived in a non-traditional relationship, as a "house slave" to her BDSM mistress and their housemates. Her mistress helped her manage her finances, which she could not do on her own, but Shirley was the one who did the chores.
Typically, such relationships involve a lot of trust on both sides; crucially, the "slave" role is voluntary, and any injury is superficial. However, Shirley's mistress betrayed her trust. Instead of pretending to hold Shirley captive, she actually imprisoned Shirley; rather than staging a "safe, sane, consensual" BDSM scene, she and her housemates inflicted a severe, hours-long beating with a metal rod. Shirley died of her injuries.
Shirley loved feeding birds.
Case status:
Cynthia Dianne Skipper (Partner), negligent homicide and kidnapping, 25 years.
Derek M. Vicchitto (Housemate), facilitation of second-degree murder and kidnapping, 25 years.
Matthew Lee Reynolds (Housemate), first-degree murder and kidnapping, life in prison.
Alphonso Richardson (Housemate), first-degree murder and kidnapping, life plus 25 years.
Source:
Jury to get 'house slave' slaying case Thursday
Defense: Slain 'house slave' wanted beatings
Four on trial in 'house slave' slaying
From wife and mother to 'slave' to murder victim
The Last Four Hours of Shirley Beck's Life – Kate Kinsey (NSFW)
3 sentenced in BDSM slaying