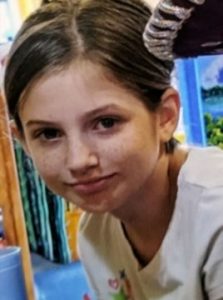 Name: Skylea Carmack.
Died: September 4, 2019.
Age at death: 10.
Cause of death: Asphyxia.
Location: Gas City, Indiana, USA.
Disability: Developmental disability, possibly autism.
Details:
Skylea's stepmother strangled her, then reported her missing, saying she had vanished from her home. Police issued a Silver Alert, announcing that Skylea had a history of running away to her mother's home and might have an autism awareness blanket with her. Skylea's body was found behind her home several days later.
Skylea was one of six siblings.
Case status:
Amanda Carmack (Stepmother), convicted of murder, neglect of a dependent, strangulation, and domestic battery.
Source:
Jury recommends life without parole for Indiana woman convicted of killing 10-year-old stepdaughter
BREAKING: Missing 10-year-old girl found strangled in shed behind home [Police]
Skylea Carmack: Autopsy confirms girl found dead in shed was strangled as stepmom remains jailed for her
Court docs: Stepmom killed Gas City girl over charm bracelet. Abuse, confinement marked her last hours.