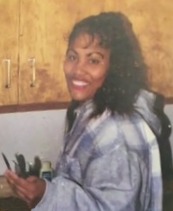 Name: Sonia Riang.
Died: December 25, 2016.
Age at death: 45.
Cause of death: Stabbing.
Location: Clinton Township, Michigan, USA.
Disability: Mobility impaired due to car accident; used wheelchair and cane.
Details:
Sonia was stabbed to death by her daughter on Christmas day.
She was a fan of Korean soap operas.
Case status:
Delilah Evans (Daughter), convicted of first-degree murder, guilty but mentally ill; sentenced to life without parole.
Source:
Teen Arrested Monday in Connection With Christmas Day Murder
Daughter arrested in fatal stabbing of disabled mother in Clinton Township
Clinton Township teen may be arraigned in mother's death
Daughter Arrested in Christmas Day Murder of Disabled Mother
17-year-old charged in murder of disabled mother
17-year-old daughter arraigned in mother's stabbing death on Christmas
17-Year-Old Girl Charged With Murder In Mother's Fatal Stabbing Christmas Day
Clinton Township Girl Arraigned In Mother's Death
Teen arraigned in disabled mother's stabbing death
Teen charged with murder in stabbing death of mother
17-Year-Old Girl Murders Mom On Christmas Day, But Family Upset About Murder Charges
Clinton Township teen seeking insanity verdict for stabbing mother to death
Teen gets life for stabbing disabled mom 120 times on Christmas Day
Teen who killed disabled mom on Christmas gets life in prison
Metro Detroit teen gets life without parole for stabbing her disabled mom 120 times, killing her
Clinton Township teen who killed mother gets life without parole
Daughter sentenced to life in prison for mother's fatal stabbing on Christmas
Teen girl stabs disabled mother 120 times, killing her, on Christmas Day