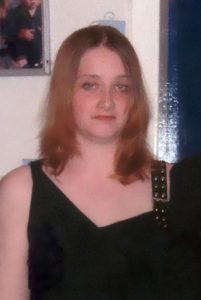 Name: Sonya Todd.
Died: March 23, 2008.
Age at death: 21.
Cause of death: Traumatic injury and diabetic crisis.
Location: Methil, Fife, Scotland, UK.
Disability: Diabetes, asthma.
Details:
Sonya's boyfriend beat her during a diabetic episode; the injuries he inflicted on her, in addition to the diabetic crisis, were enough to kill.
She was an academically talented young woman who liked doing volunteer work. She left behind a six-year-old daughter.
Case status:
David Craige (Partner), pleaded guilty to culpable homicide, sentenced to 6 years. Released; now dating another woman with a disability.
Source:
Killer who beat mum to death with dog chain free and has 'vulnerable' girlfriend
Horror find at Methil flat
Man jailed for dog chain killing
Jealous Fife man jailed for killing girlfriend
Grieving dad's anger as daughter's killer gets six years