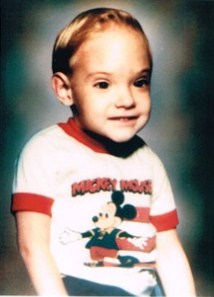 Name: Steven Paul Hughes.
Died: June 1, 1982.
Age at death: 2.
Cause of death: Medical neglect.
Location: Boise, Idaho, USA.
Disability: Spina bifida.
Details:
Steven was born with spina bifida, but his parents didn't take him to see a doctor because they didn't believe in doctors. He didn't get a wheelchair and had to drag himself around on his forearms instead.
Steven died of untreated pneumonia shortly before his third birthday.
Perpetrator: William Hughes (Father) and his mother, no crime because denying children medical treatment on religious grounds is legal in Idaho.
Source:
These Coffins Represent Kids Who Died Because Their Parents Were Faith-Healers
Idahoans protest faith healing exemptions in Boise
183 Coffins For Idaho Children Killed By Faith Healing Parents
Hundreds March for Repeal of Idaho's Faith Healing Exemptions
Steven Paul Hughes (1979-1982) – Find A Grave
In Idaho, medical-care exemptions for faith healing come under fire