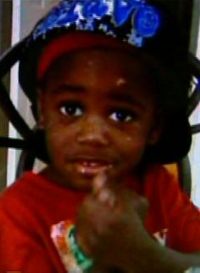 Name: Teyshawn Daryl Young.
Died: September 20, 2010.
Age at death: 3.
Cause of death: Abuse.
Location: Toms River, New Jersey, USA.
Disability: Autism.
Details:
Teyshawn was beaten by his mother's boyfriend; he died of blunt-force injuries to his stomach.
Perpetrator: Corey C. Fitzgerald (Mother's boyfriend), pleaded guilty to aggravated manslaughter, sentenced to 12 years.
Source:
NJ man faces prison for death of autistic child
Questions surround child's death in New Jersey
Teyshawn Daryl Young Obituary