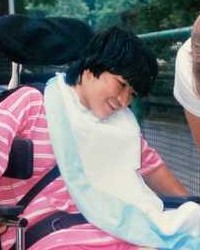 Name: Thy Chan.
Died: August 19, 1997.
Age at death: 16.
Cause of death: Viral encephalitis.
Location: Oxford, Massachusetts, USA.
Disability: Cerebral palsy.
Details:
Thy (pronounced "tea") came from Cambodia and lived in a foster home in the United States. Her foster parents were parents in name only; they took in children for the money, sometimes locked them in dog cages, abused and neglected them. Severely disabled children were cared for by other children rather than by their foster parents. Thy's foster sister Jessica remembers seeing Thy horribly sick with a temperature of 106–something her foster mother, a nurse, would have recognized as serious–for two days before anyone called for an ambulance. Thy died of viral encephalitis in the hospital a few days later.
Thy's death was put down to natural causes. However, years later when four former foster children came forward to report that they had been physically and sexually abused by their foster parents, they also testified that Thy had died from the same neglect they had all been subjected to.
Case status:
Susan Blouin (Foster mother), charged with indecent assault and battery, nursing license revoked.
Raymond Blouin (Foster father), charged with indecent assault and battery.
Philip Paquette (Susan Blouin's ex-boyfriend), charged with statutory rape.
Source:
Man arraigned on child rape charges after foster home abuse investigation
Foster child died in troubled Oxford foster home in 1997
New charges issued in foster family abuse case
Former Oxford foster children file $40M lawsuit against couple, state over "house of horrors"