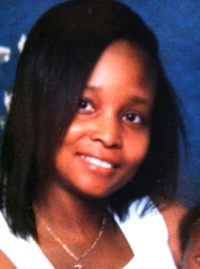 Name: Tina Green Hall.
Died: February 24, 2012.
Age at death: 47.
Cause of death: Multiple murder.
Location: Columbus, Georgia, USA.
Disability: A "chronic hip ailment".
Details:
Tina and her six-year-old son Jeremy were murdered by her boyfriend. He tried to disguise it as a murder-suicide, telling police that she must have committed suicide because of financial difficulties from having to quit her job because of her disability. However, crime scene investigators gathered evidence that proved that Tina and her son had both been murdered by her boyfriend.
Perpetrator: Vince Harris (Boyfriend), charged with two counts of murder.
Source:
Prosecutors: Alleged killer of mother and son angered by other women in his life
Prosecutors: Boyfriend used kitchen gloves while fatally shooting mother, 6-year-old son
Closing arguments begin in trial of man accused of murdering girlfriend, her son
Police say mother killed 6-year-old son, then self
Mother and 6-year-old son found dead in Columbus home
Man charged in mother-son deaths initially ruled murder-suicide