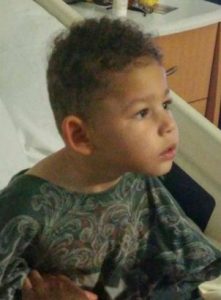 Name: Tyrael Emory Alexander McFall.
Died: November 8, 2014.
Age at death: 2.
Cause of death: Codeine poisoning.
Location: Austell, Georgia, USA.
Disability: TBI from previous abuse; blind.
Details:
Tyrael was disabled because his birth father beat him. After his birth father was imprisoned, his mother remarried.
His mother and stepfather poisoned him with an overdose of codeine through his feeding tube. They also used his social security number to sign up for credit cards, and cashed in on the little boy's life insurance policy, which they had bought without telling the company about his disability.
Case status:
Erica White (Mother), convicted of murder and fraud, sentenced to life plus 83 years.
Michael Schullerman (Stepfather), charged with murder; pleaded guilty to fraud, sentenced to 30 years.
Source:
Cobb mom charged with murder in 2-year-old's overdose death
New details emerge in poisoning death of 2-year-old disabled Cobb boy
MCFALL, Tyrael Emory Alexander
Gruesome details emerge after couple poisons disabled toddler boy to death, then opens credit cards in his name: DA
New details emerge in poisoning death of 2-year-old disabled Cobb boy
Cobb mom charged with murder in 2-year-old's overdose death
Trial begins for Acworth mother accused of killing toddler son
Murder trial starts for Cobb mom who allegedly poisoned 2-year-old son
Parents Allegedly Poisoned Disabled Boy To Death, Took Out Credit Cards In Son's Name
Cobb mom who allegedly killed disabled 2-year-old son will not testify
Both sides argue case of Cobb mom who allegedly killed disabled son
Jury deliberating fate of mom accused in toddler's codeine death
This mom stole her 2-year-old son's identity — after poisoning him, prosecutors say
Jury deliberates to decide fate of 'poisoning for profit' mom, accused of putting codeine in disabled toddler's feeding tube
'Poisoning for profit' mom found guilty of killing disabled toddler, taking credit cards out in his name
Georgia Mom Found Guilty Of Killing 2-Year-Old Disabled Son
Austell mother convicted of killing her 2-year-old disabled child
Mother Found Guilty of Killing Disabled 2-Year-old Son, Using His Identity to Get Credit Cards
Cobb mom found guilty of murdering her 2-year-old disabled son
Mother accused of killing son, using his identity for credit cards found guilty
Cobb mom gets max sentence for fatally poisoning her disabled son
Mother Who Poisoned Disabled Son Gets Life Sentence
'Codeine killer' mom gets life in prison for poisoning blind disabled toddler boy, then maxing out credit cards in his name
Cobb mom gets max sentence for fatally poisoning her disabled son