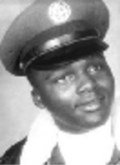 Name: Willie Henderson.
Died: January 22, 2010.
Age at death: 60.
Cause of death: Gunshot.
Location: North Las Vegas, Nevada, USA.
Disability: Blind, mobility impaired.
Details:
When Willie Henderson needed help around the house, his godson used to act as a handyman.
Willie's godson shot him in the back of the head. In court, he claimed that it had been self-defense, even though there were no signs of a struggle.
Willie Henderson was a Vietnam war veteran.
Case status:
Billy Ray James (Godson), pleaded no contest to involuntary manslaughter; spent six years in prison before release.
Source:
Willie Henderson Obituary
Handyman to stand trial in North Las Vegas shooting death
Ex-felon found guilty of 2010 slaying of North Las Vegas man
Hung jury in re-trial of North Las Vegas murder case
Murder case tried three times headed for mistrial, judge says
Judge declares mistrial after man's third trial in North Las Vegas murder case
Man waits for release in Vegas killing after 3 trials, 1 plea deal, 6 years in prison