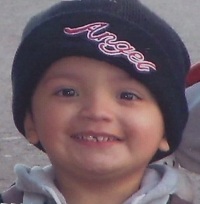 Name: Yonatan Daniel Aguilar.
Died: August 22, 2016.
Age at death: 11.
Cause of death: Starvation.
Location: Los Angeles, California, USA.
Disability: Autism.
Details:
When Yonatan's teachers reported that he was hungry, stealing food, and had come to school with a black eye, Yonatan's mother decided to take him out of school. She told everyone she had sent him to Mexico to a special school. Instead, she allegedly locked him in the closet.
Police say that for three years before his death, Yonatan's mother locked him up, abused him, and fed him very little; to keep him quiet, she sedated him with sleeping pills for so long that he developed pressure sores from not moving. Yonatan died of starvation, weighing 34 pounds.
Case status: Veronica Aguilar (Mother), charged with child abuse and first-degree murder.
Source:
Man didn't realize wife 'had hidden son,10, in closet for 3 years to starve him'
Preliminary Hearing Begins in Echo Park Boy's Death
California mother accused in death of special-needs boy kept hidden in closet
Boy, 10, died after 'he was locked in closet for years by mother'
L.A. mother accused of killing special-needs son described boy as 'pure evil' to detective
Calif. Mom Allegedly Starved Son, 11, and Locked Him in Closet for 3 Years Before Death
Echo Park mother accused of killing special-needs son described boy as 'pure evil' to detective
Mom charged with murder after special-needs son found dead in closet
Tortured life: Court documents show boy with autism locked in closet for 3 years prior to his death
Records obtained by Times reveal boy was kept in closets for three years before his death
Autistic Boy Kept In Closet And Sedated By Mother Before Passing Away
DCFS investigated reports of abuse of Echo Park boy later found dead in closet
Memorial service held for Echo Park boy found dead in closet
11-Year-Old Boy Found Dead in Echo Park Closet Weighed Only 34 Pounds; Public Memorial Held
Echo Park Mother Charged With Murder of 11-Year-Old Malnourished Son
Veronica Aguilar: L.A. Mom Starved 11-Year-Old Son To Death, Horrifying Murder Charge Says — Boy Stuffed In Closet
Malnourished boy found dead in Echo Park closet was subject of earlier child abuse reports, LAPD says
Boy, 11, found dead in Echo Park closet weighed just 34 pounds
Death Of A Boy In The Closet From Alleged Abuse: Siblings Knew About It But Kept Silent
11-year-old boy found dead in LA had been locked in a wardrobe for three years
Records Show Boy Stuffed In Closet By Mother For 3 Years Before His Death
Documents show mom concealed boy in closets for years before his death, LA Times reports
Little boy found dead in closet had been hidden, tortured there for years
Echo Park Boy Found Dead Was Kept Hidden, Sedated In Closets For Years
Evil mother kept son locked in a closet for three years before he died
Boy Found Dead In Echo Park Home Had Been Locked In Closet For 3 Years
This Mom Allegedly Locked Her Child In a Closet For 3 Years Before He Died
Boy Found Dead in Closet Was Sedated and Hidden for Years
Woman allegedly locked 11-year-old son in closets for three years before he died
California boy found dead in home was kept hidden in closet for years, court docs say
Tortured life: Court documents show boy with autism locked in closet for 3 years prior to his death